Self-Service PA Laundromats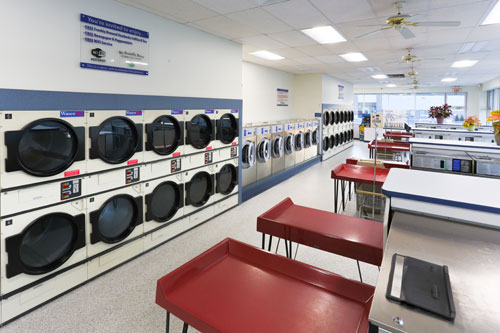 Looking for a laundromat in Harrisburg, PA? Our attended laundromats have an outstanding reputation for being the cleanest, friendliest, and brightest laundromats Harrisburg has to offer.  Our laundromats are attended 95% of the time, and our staff is available and eager to answer your questions.
We provide ample seating and folding areas/folding tables, and all locations have off-street parking for easy loading and unloading of your laundry.
Our equipment includes eco-friendly self-service washing machines that require less water and less detergent to decrease our impact on the environment.  All self-service laundromats have LED lighting which not only reduces utility usage but makes our locations bright and inviting.
Coin Laundry in Harrisburg, PA
We are a coin-operated and app-based hybrid facility.
All our machines take quarters, which means you don't have to worry about purchasing cards or having unspent monies remaining on laundry cards.  We provide a no-fee bill change machine for our customers' convenience.
Don't like to carry cash?  You're invited to use the PayRange app at all five of our laundromats.  This free, easy-to-use app links to your credit or bank card and makes starting all of our washers and dryers a snap!
All of our locations are attended laundromats for most of the day so you don't have to worry about the hassles you may experience at other businesses. We are here to assist you and make your experience enjoyable. Since we are self-service laundromats, you can wash your laundry at your own pace and without having to interact with the attendants.
When you are a customer at our laundromats, you can enjoy the following:
Clean, bright, and well-lit
Friendly, helpful attendants
Large-capacity washing machines
Large-capacity dryers (at most locations)
Ample seating and folding tables
Detergent/soap vending on-site
Free WiFi
No-fee bill changer for customers
PayRange app enabled washers and dryers
Laundromat Hours
We are open seven days a week!  Our laundromats hours are:
Monday – Saturday: 7 am – 10 pm (the last load must be started by 8:30 pm)
Sunday: 8 am – 10 pm (the last load must be started by 8:30 pm)
Holiday Hours:
All of our five laundromats are OPEN every holiday except for Thanksgiving Day, Christmas Day, and Easter Sunday.
With five locations, we make it convenient for you to get clean!
If you are unable to take time to go to the laundromat that is okay! In addition to dry cleaning, we have a wash and fold laundry service that can be found at all of our eight locations.
We also have pickup and delivery. Check to see if we're in your neighborhood and let us help you with your dirty laundry. Contact us with any questions about our services.