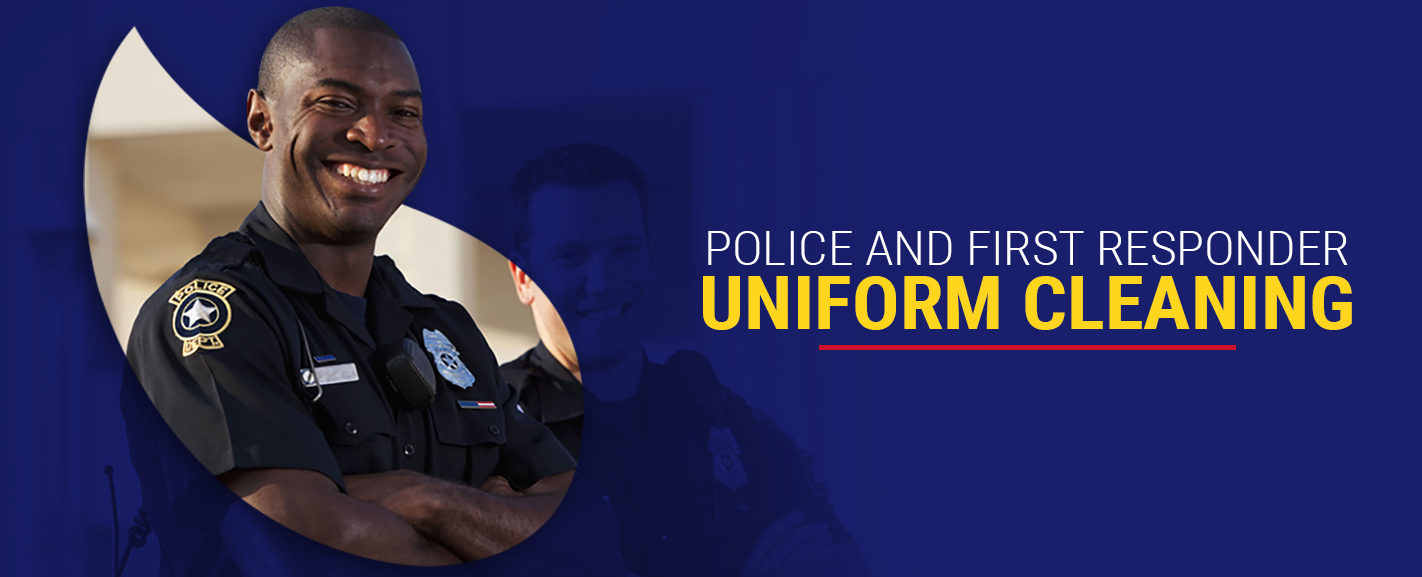 At Classic Drycleaners, we serve a variety of first responder groups that need reliable, high-quality uniform cleaning. We value the important work that first responders do for our community, and as such, Classic Drycleaners strives to provide the best possible uniform cleaning service to emergency personnel.
First Responder Uniforms We Clean
We provide first responder uniform cleaning for police officers, public service officers, military, and EMT/EMS.  We also provide cleaning services for prison guards and security guards.
Police Officer Uniforms
Through our law enforcement dry cleaning service, we strive to keep our brave police officers looking their best. We provide our local police departments with free, twice-a-week pickup and delivery service, and itemized billing. To ensure the best dry cleaning service for police uniforms, we perform a background check on each of our employees, from our cleaning staff to our drivers.
While other dry cleaners or uniform cleaners tend to return law enforcement uniforms all together, forcing the department to sort through the uniforms for each officer's clothes, we keep each officer's uniform separate. Each officer receives his or her own bags for laundry, and every order is returned to its specific officer. We ensure every first responder's uniform is ready to wear upon return.
Class A and B Volunteer Firefighter Uniforms
We recognize and appreciate the sacrifices of all our first responders.  There are many towns, boroughs, and neighborhoods throughout the Greater Harrisburg area that are served by volunteer fire departments. These men and women often work full-time jobs and still find time to volunteer with their local fire departments.  They sacrifice evenings, leisure time, and sleep to not only respond to emergencies but to fulfill ongoing training requirements and certifications.  As our way of saying THANK YOU, we clean all Class A and Class B uniforms for our local volunteer fire departments for free, all year long.

Services We Offer
Because Classic Drycleaners is a full-service dry cleaner, we offer a variety of services to our clients, including:
1. Dry Cleaning
We can dry clean your basic wardrobe essentials, such as your sweaters and pants, plus your more elaborate wardrobe pieces, such as stage wear and pageant gowns. Along with law enforcement uniform cleaning, we can take care of:
Bedding: We clean blankets, quilts, and comforters. If you are planning on storing your bedding at the end of the season, we can clean these items and prepare them for long-term storage.
American flags: We dry clean American flags for free.
Curtains and draperies: We clean and press your curtains and draperies through our drapery dry cleaning services.
Vintage restoration: We care for vintage items, such as military uniforms, including repairs and alterations.
2. Pick Up and Delivery
We know our clients are busy, which is why we offer free pickup and delivery service. With free pickup and delivery, we save you time and money. You don't have to worry about the hassle of picking up your laundry, and you don't need to be home to have your laundry picked up.
We supply you with two personalized bags for laundry service, and our driver will check for a bag twice a week. You can provide any special care instructions for your clothing as needed. Any items you can bring to a dry cleaner, we can pick up at your front door.
3. Wash and Fold
We're all balancing multiple responsibilities, jobs, and errands. When we get this busy, finding time to wash and fold laundry can feel impossible. This is why we offer wash and fold services at Classic Drycleaners.
The process for our wash and fold service is simple. You bring us your basket or bag full of your everyday laundry. You select what detergent and softener you prefer. We will sort your items by color, and machine wash your clothes in cold water and tumble dry your clothing at a medium heat setting. After your items are washed, we neatly fold every load.
There's no need to separate your clothing beforehand. All we ask is that you check your pockets for any loose items and turn all garments right side out.
4. Repairs and Alterations
Through our repairs and alterations service, our tailors can help you achieve the perfect fit. We can do both minor repairs and extensive alterations. We provide repairs and alterations for a variety of garments and are proud to repair and provide alterations for uniforms, including police, military, and emergency personnel.
We repair zippers, straps, adjust sizes and hems, and sew on patches.  We also provide shoe repair.
Benefits of Choosing Classic Drycleaners
Why should you choose us for your laundry cleaning services? At Classic Drycleaners, we serve the Greater Harrisburg area with five laundromats, eight dry cleaning locations, and free pickup and delivery service. Whatever your laundry care needs are, we can handle it.
We also play an active role in the community all year round by supporting and donating to causes and non-profit organizations. We care about our community, and we're proud to be the preferred garment care specialist in the Greater Harrisburg area.

Trust Classic Drycleaners to Clean Your Uniforms
At Classic Drycleaners, our bright and clean laundromat and dry cleaning services are available for your convenience. We appreciate the work first responders do in our community, and we want to do our part by providing our officers and firefighters with crisp, clean uniforms.
Are you interested in our dry cleaning services at Classic Drycleaners for your first responders' uniforms? Contact us at Classic Drycleaners, or find a location near you today.