Local Shoe Repair, Cleaning, and Restoration
Looking high and low for an expert shoe repair service provider in the Harrisburg region? Before discarding the shoes you love due to worn-out soles, ripped stitching, or other signs of long-term use, visit Classic Drycleaners. Our team of master cobblers will extend the life of your favorite kicks through quality shoe repair.
At Classic Drycleaners, customer service is a priority. Our team makes it simple for you to have your shoes restored or repaired. From leather boots to custom orthotics, almost any type of traditional footwear can be transformed into like-new shape. You can put us to the test with any unique restoration project. Whatever your needs, we'll work with you to make your old shoes look and feel like a brand-new pair.
Bring your worn-down footwear to our locations in Harrisburg, Carlisle, Lemoyne, Enola, Etters, or Mechanicsburg for exceptional local shoe cobbler service. Find out why our customers trust us to extend the lifetime of their shoes as well as clean and dry clean their clothing.
How Our Shoe Repair Service Works
Many people assume that they have to throw away their worn, dirty, unattractive, or otherwise unusable shoes. However, many shoes can be repaired with the help of an expert cobbler.
Classic Drycleaners accepts all types and brands of shoes, including leather and non-leather boots, high heels, sneakers, sandals, loafers, sports cleats, prescriptive shoes, UGG brand, Birkenstocks, and more. We know you invested in your shoes with the hopes of wearing them for years to come, and we want to help.
We're happy to take a look at any footwear you have, so don't be shy about bringing in those authentic Western cowboy boots you love. Maybe you have a wedding to go to soon, and you don't want to buy a new pair of dress shoes. We can rework your old ones so you can still be the life of the party. If you own work boots that you need to last for many years in the field, you can trust our expert team with those, too.
Bottom line? If you have shoes you want to keep wearing, consider talking with us about our shoe repair service before saying goodbye to your favorite footwear.
Simply drop off your shoes at Classic Drycleaners at any of our east shore or west shore locations, or have them picked up for free with your dry cleaning. We will evaluate your needs and then give you a better idea of the anticipated timeframe and cost. The vast majority of shoe repairs take about 10 days to complete. Our repair team will keep you updated on any changes and let you know when your old shoes have finished their transformation.
You have nothing to lose and a pair of wonderful shoes to gain when you partner with an expert cobbler.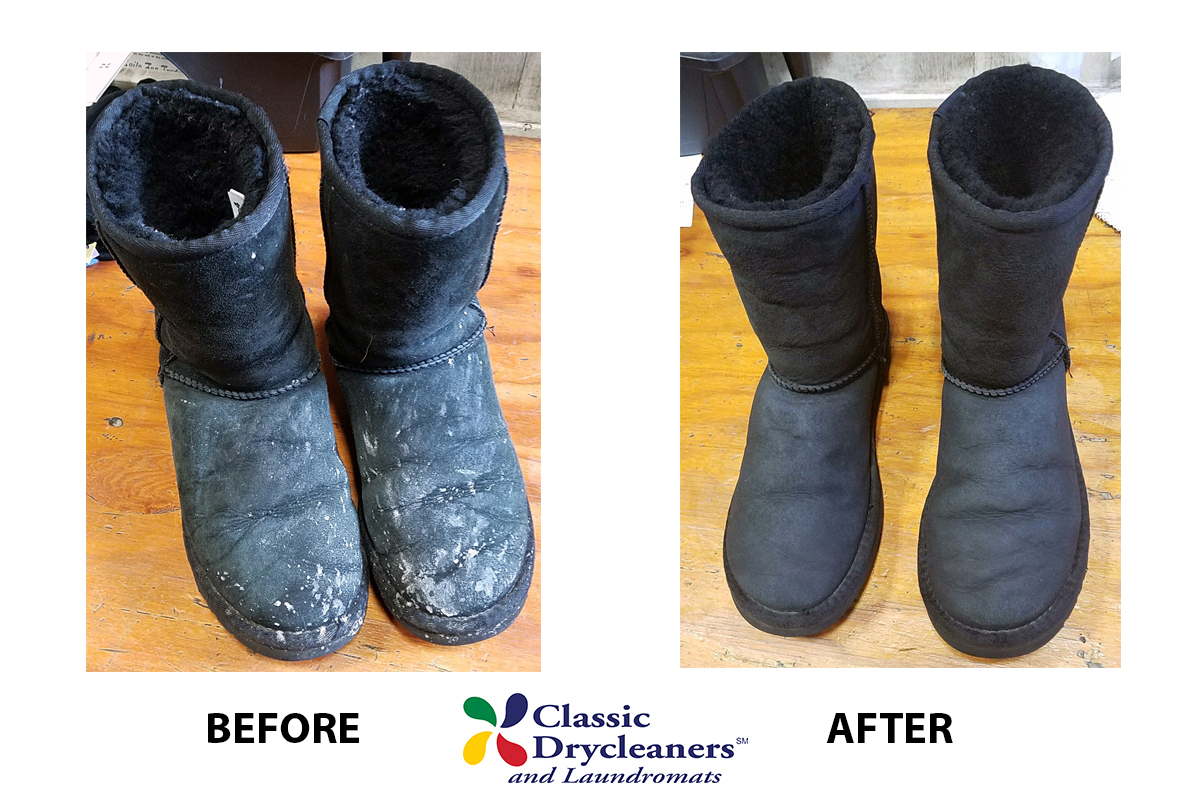 Common Shoe Repair Service Requests
Every pair of shoes wears differently on different people, which means footwear can degrade in a number of spots. For this reason, Classic Drycleaners offers customized shoe repair services that allow us to pinpoint and fix the problems ailing your footwear.
Our repair services can fix any problem you have with your footwear, from dirty shoelaces to broken heels. Some of our most frequently requested shoe cobbler services include:
Resoling Shoes: By resoling a shoe, we can extend its usefulness by years.
Fixing Broken Heels:  Heeled shoes can come apart where the heel and sole meet. Heel replacement can give an old pair of shoes new life.
Restoring Damaged Toes: The toe box of a shoe undergoes a lot of wear and tear. Not only does restoring it beautify the shoe, but it increases the protection for the toes and feet.
Rebuilding Worn Boot Heels: Eventually, all boot heels will start to show signs of aging. Reverse the damage by having them serviced by a cobbler.
Repairing Boots: If you wear the same pair of winter or fall boots every year, you might notice scuffing, matted lining, or water damage. We have all the tools for proper boot repair.
Stretching Shoes: Footwear pinch your feet? Shoe stretching can make footwear more comfortable. Plus, stretching boots can accommodate a wider ankle or calf.
Adding Elements to Shoes: Need elastic for your shoe straps? Metal eyelets? Shoelaces? These practical upgrades are possible with the help of Classic Drycleaners.
Adding Orthopedic Lifts and Build-Ups: When you need a lift in one shoe or both shoes, come to us with your prescription.
Repairing Leather Shoes: Not everyone has the tools to fix leather shoes at home. We are the only dry cleaner in central Pennsylvania with in-house leather and suede repair.
Cleaning Shoes: Most types of shoes can be cleaned, including leather and suede shoes, as well as UGG brand. Shoe polishing is also available, when applicable.
If your shoes have lost the spring in their step for any reason, come to any of Classic Drycleaners' convenient locations from Harrisburg to Carlisle.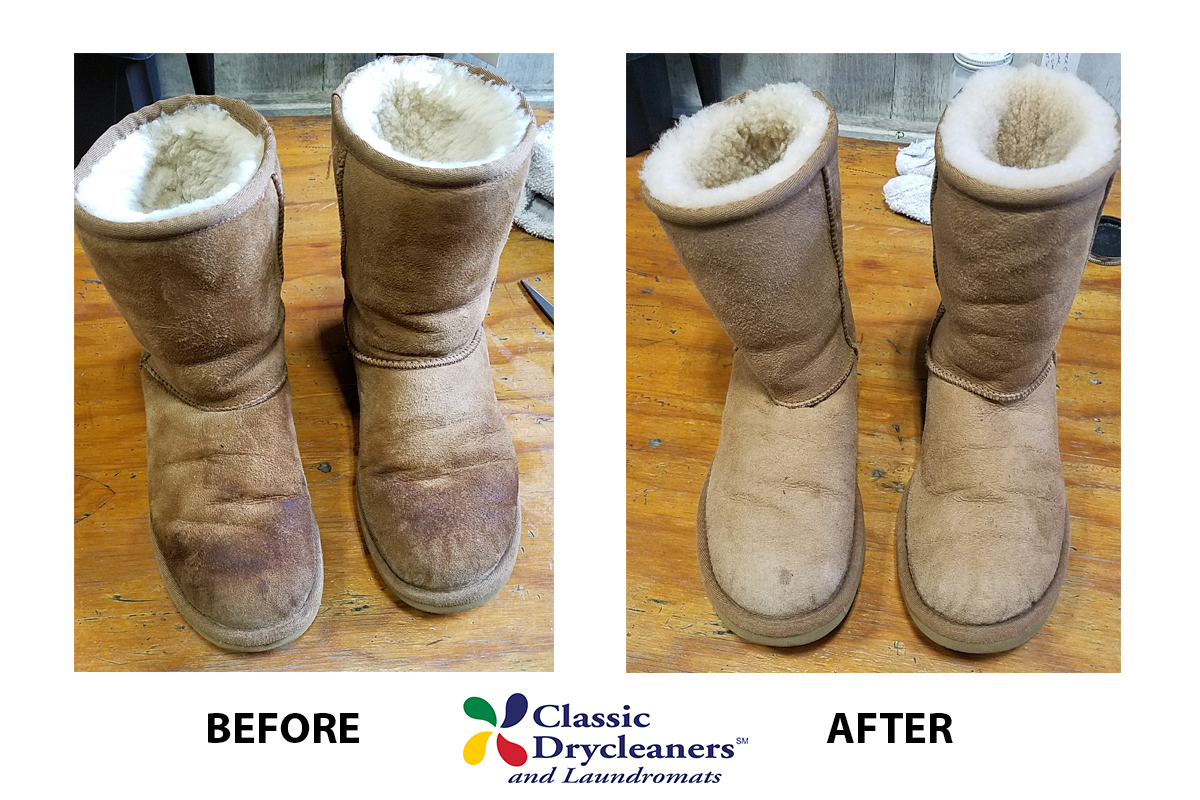 Give Your Shoes Some TLC
Never say goodbye to shoes you want to keep just because they no longer fit right, look good or offer high performance. Instead, do what other customers in the Harrisburg community do and take advantage of a local shoe cobbler service. We're your local repair shop for all your favorite shoes, from Western boots to trusty flats.
Classic Drycleaners can help you extend the life of the shoes you love. We guarantee exceptional communication throughout the process, from estimating prices to providing an anticipated completion date. Whatever your shoe repair needs may be, we're here to help. Call or visit us today to get an initial shoe repair quote at any of our locations!