How to Store Clothes
December 18, 2019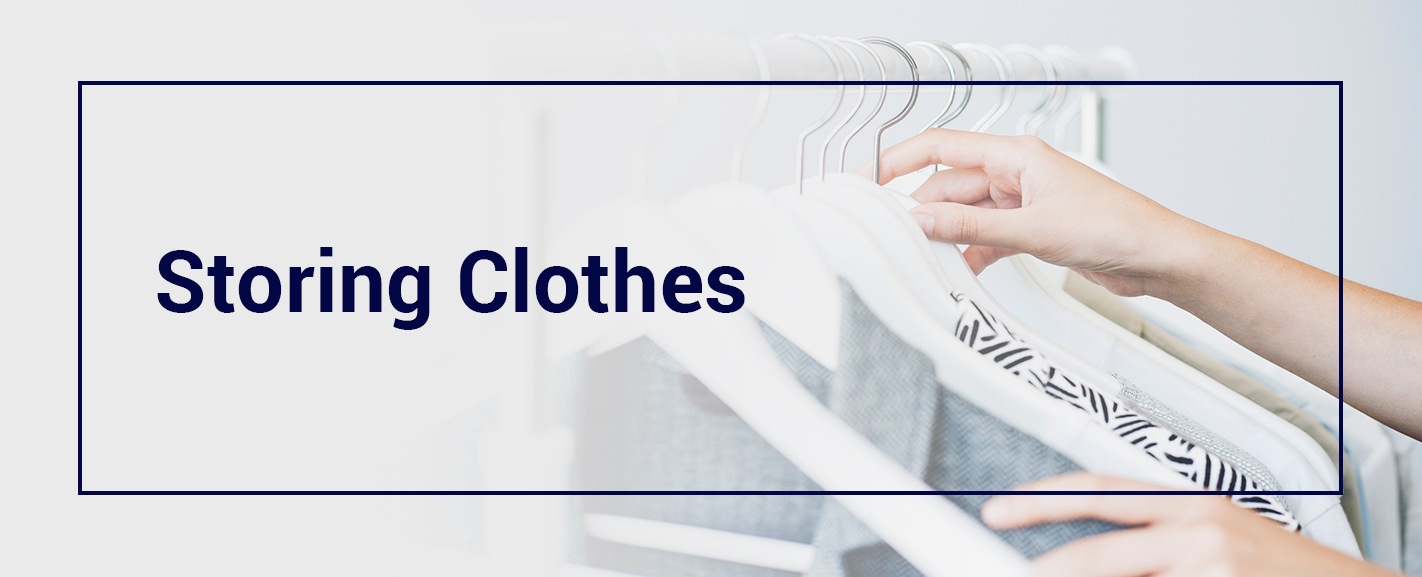 When you think about all the things that take up space in your home, your clothing likely tops the list. A 2016 ClosetMaid study of 1,000 U.S. women found the average woman in America has about 103 articles of clothing in her possession. That's a lot to keep track of, as well as a lot of clothing to stash somewhere!
Whether you're moving, rearranging or just wanting to de-clutter your environment, you can adjust the way you store clothing to save space. By storing clothes systematically, you'll also save time you would've otherwise spent looking for that perfect item. Proper storage methods are also a crucial aspect of clothing care, ensuring your clothes last for as long as you love wearing them. In this article, we'll discuss the many different ways you can store clothes, as well as a few creative places to store your clothing.

Different Ways to Store Clothes
To save space and time, think strategically about the way you plan to store your clothes. Everyone has different lifestyles and space restrictions, so one option may be better for one person, while another method could be more beneficial to someone else. As you read the three different ways to store clothes, think about the amount of clothing you need to store, your space allowances and how often you'll need to access your seasonal clothing.
1. Hang Them
The most traditional way to store clothing for most people is by hanging it up — but have you considered the many different ways and areas in which you can hang your clothes? One trick is to install an additional bar below the existing rod that's in your closet, if you have one. You can use this lower bar to hang up your shorts, tank tops and other small clothing items. You could even hang accessories like scarves, hats and purses on the lower bar. If you have a lot of shoes, this might not be the best option, as you may prefer to use the bottom area of your closet to store your shoes. It's best to use all the space in your coat closet, spare closets and wardrobe spaces for bulky clothing storage.
2. Box Them Up
The second option for long-term clothing storage is to box everything up. Pack your clothing into airtight plastic containers with lids for the best results. Containers with lids will protect your clothing from moths, mold, mildew and moisture, keeping them in the best condition possible.
Plastic bags and standard cardboard boxes will not offer your clothes any protection from the elements or environmental factors, so avoid using these storage methods at all costs. These types of containers are also easily accessible to rodents, insects and other critters that could gnaw on or make a home out of your beloved clothing. If you choose to box up your clothes, consider also lining the plastic bin with a cotton sheet to take one more step to protect them.
If you're going to store your clothing in a box, you have a few options on how to strategically pack the boxes.
Fold: Folding is often a person's first thought when they have to pack up their clothes, but it usually is the option that takes up the most space. Although folding is a quick and straightforward solution at the time, it makes it more difficult to find specific articles of clothing and also does not use the space within the box as efficiently as the next two methods.
Roll: Rolling your clothing is a smart way to pack your clothes because it uses less space within the storage container and allows you to fit more contents inside the box. You can then decide whether you want to stack your rolled clothing vertically or horizontally, depending on the container and your preference.
File: Instead of stacking your folded or rolled clothing on top of each other, file them away so you can see each item at a glance. Think of each article of clothing as a file in a filing cabinet, allowing you to easily scan each of your bins when you're looking for a specific item.
3. Vacuum-Seal Them
Vacuum-sealing your clothing is a brilliant way to save space. This storage solution is for all those apartment-dwellers, dorm room warriors and families of four or more who just can't seem to find room for anything in your home. When you vacuum-seal your clothing, you shrink it down to a thin package you can easily slide underneath a bed, couch or another piece of furniture for safekeeping.
Vacuum-sealing isn't ideal for extremely long-term storage, but it's great for seasonal clothing you plan to rotate back into your closet in a few months. Just be sure to give the packages a full day to re-inflate before you plan on wearing anything inside. You should also have your vacuum-sealed clothing professionally dry-cleaned before wearing it to ensure it's free of wrinkles and creases and back to its original state.
Where to Store Clothes
If you don't have space in your closet, dresser or wardrobe to store your extra clothing, you'll need to get creative as you search for a place to keep your stored-away seasonal clothing. Here are four ideas to help you get started — but don't be afraid to get creative and try to find unique storage solutions that suit your space and clothing collection!
1. Under the Bed
If you have a bed with plenty of clearance between the bottom of the mattress or box spring and the floor, you can store your bins of clothing underneath it. Under the bed is a convenient place to keep your seasonal clothing because it's out of the way, but still accessible if you need to get something. Depending on your bed and your preferences, you could even invest in drawers that go underneath your bed for additional clothing and accessory storage space. Under-bed drawers are often an ideal storage solution for people with platform beds or other low-sitting bed frames.
2. On the Wall
No matter how small your house or apartment is, you probably have plenty of wall space where you've hung up mirrors, artwork, photos, calendars and other decorations. While aesthetically pleasing decor plays a role in keeping your home cozy and comfortable, you could also use your wall space for clothing storage. Shelving units, bookshelves, hooks, racks, decorative rods and other wall organizers are all potential storage solutions that won't take up any of your precious floor space. Wall storage is also suitable for storing accessories and shoes. Don't forget to use the insides of your closet and bedroom doors, too!
3. In Spare Rooms
Take advantage of your guest rooms, extra living rooms, offices and other areas of your home that may have additional underused storage space. Even if you have guests come to your house often, they most likely won't need to use too much drawer or closet space during their stay. Using these spaces for your long-term seasonal clothing storage is a smart way to make the most of your extra rooms without leaving them looking cluttered or unwelcoming.

4. In Your Luggage
Do you have a bunch of empty luggage sitting around in your house or apartment? If so, consider using the space inside your suitcases to store your seasonal clothes. This strategy is especially smart if you don't travel often, so you won't have to use your luggage too frequently. Even if you do take a few trips a year, you can still keep your vacuum-sealed clothing packages inside your suitcases and remove them when you need to use the luggage for a getaway. This practice might be somewhat tedious for loose clothing, but vacuum-sealed packages are easy to remove and keep elsewhere while you're traveling, then place back into the luggage when you get home and unpack.

Tips for Storing Clothes
Now that you know a few unique methods and locations to store your clothing, you're ready to apply the techniques you like best to your life. Whether you prefer to vacuum-seal your winter clothes in the summer or keep them in an airtight bin, there are several tips you should consider before choosing the best approach for your clothing. Here are five ideas to remember as you decide how to store your clothing.
1. Consider the Material
You might store specific clothing items differently than others due to their material. For example, hanging knit sweaters for long periods is never a good idea, as they are prone to stretching and morphing on the hanger due to their weight. Similarly, certain types of cotton shirts may become wrinkled or creased beyond repair if you keep them folded in a box with lots of other heavy items on top of them. Silk shirts are also likely to become creased when folded or vacuum-sealed. Before you decide how to store each item, think about the type of material and how your chosen storage technique will affect it.
2. Keep Similar Items Together
For organization and time-saving purposes, store similar items together as much as possible. Since most people prefer to store their seasonal clothing away when it's not in season anymore, this step is typically easy and natural to accomplish.
You never know when you're going to need a specific item, so storing all your sweaters together, all your jeans together, all your long-sleeved tops together — and so on — allows you to know where certain pieces are without digging through an unorganized drawer or bin. The weather can be unpredictable, and it's not unusual anymore to have an abnormally hot day in the winter or a strangely chilly day in the summer. Keeping your stored clothing organized allows you to adapt, no matter what the weather decides to do.
3. Store Your Clothes in a Cool, Dark Space
The environment in which you store your clothing is essential to its preservation and cleanliness, as heat can break down clothing fibers and alter the quality of the material. No matter what method of storing clothing you decide to follow, make sure you always keep it in a cool, dark place. This location should be indoors and not exposed to the outdoor elements. Even an attached garage is a questionable storage location unless the space is also temperature-controlled and does not let in a lot of natural sunlight. You should also avoid storing clothing in your attic, as this area of most homes is subject to overheating.
A spare room is often the best place to keep your extra clothing. If you don't have a space that is both dark and cool inside your home, you may consider renting an indoor storage unit if you have a great enough need for clothing storage space.
4. Ask How Often You'll Wear an Item
Changing the way you store your clothes is the perfect opportunity to purge your closet a little bit, too. In the same ClosetMaid study referenced earlier in this article, researchers learned that of the 103 pieces of clothing the average U.S. woman owns, she would categorize 24% of them to be too loose, 33% of them too tight and 21% of them to be completely "unwearable."
If this is the case for you, do yourself a favor and donate any clothing items you no longer wear. You'll be amazed at how good it feels to clear out some junk, while also giving it a chance at a new life. Classic Drycleaners has Community Aid donation bins at our Harrisburg -Linglestown Rd and Mechanicsburg- Simpson Ferry Rd locations! If you have clothing that isn't in the best shape for someone else to wear, don't be afraid to trash it — you'll never think about it again, and will have more room for fun new clothes you'll actually wear!
5. Think Vertically
When you think you've run out of space to store your clothing, look up. Have you used all the overhead cabinet space in every room of your home? Many people have empty cabinets above their fridges and along the ceiling of their kitchen. If these cupboards are large enough, you can most likely store a bin or two of your seasonal clothes in the kitchen. Look up in your closets, bathrooms and hallway areas, as well. You might even discover extra cabinets or shelving units that you didn't notice before.

Refresh Your Clothes After Storage at Classic Drycleaners
Once you're ready to take your clothes out of storage and start wearing them again, having them professionally cleaned is an excellent idea. After sitting around for several months or even years, clothing of all materials will need a refresh.
When you take them to a dry cleaner, you'll know your clothes will come back to you clean, un-wrinkled, smelling and looking great. If you live or work in a central Pennsylvania neighborhood like Harrisburg, Carlisle, Enola, Etters, Lemoyne or Mechanicsburg, contact Classic Drycleaners online. You can also sign up for pickup and delivery services directly on our website. Reach out to us today with any questions you have!
Sources:
https://blog.closetmaid.com/2016/05/full-to-the-brim
https://www.storeurstuff.com.au/tips-storing-clothes-self-storage/
https://www.lifestorage.com/blog/storage/how-to-store-clothes/
https://www.thespruce.com/storing-seasonal-clothing-1900114
https://www.familyhandyman.com/storage-organization/how-to-store-seasonal-clothes/
https://www.lifestorage.com/blog/organization/10-innovative-clothes-storage-ideas-when-you-have-no-closet/
Tags: how to, storing clothes